If you're reading this it means that you've recently said "yes" to the person of your dreams. Congratulations!
While you may still be floating on cloud nine, we know that you've got work to be done and we're here to help you with your wedding planning.
Crew4Events works nationally, to ensure that the customer receives the best products and services to deliver excellence from the initial planning stages of the 'big day' to the finale, from concept to completion. We have been a part of wedding hospitality and management from the past 15 years and these special days have taught us how to pick out the very best suppliers, helping to make the wedding planning process seamless, unique and most importantly stress free.
Whether it's a destination wedding or wedding closer to home, Crew4Events' work closely with you. We ensure that our handpicked suppliers will help you build the wedding of your dreams.
Our clients have busy and demanding lives, so our role is not only to alleviate the stress that comes with planning a wedding, but also to allow you to really enjoy the process from start to finish. Crew4Events' Founder Nidhi and her team are very passionate about weddings and will go to extraordinary lengths to ensure perfection. To maintain a personal approach, we only accept a limited number of wedding clients each year, this enables us to provide unfaltering dedication to create a show stopping wedding.
For every wedding which we staff and coordinate, we prepare a separate list of vendors that we hand-select to fit the peculiarities of the event. We list down our preferred vendors for things like catering, videography, photography, decor, flowers, music and entertainment, cake, props, stationery logistics, guest accommodation, etc. We run the list by you just to make sure that you are aware of vendors and their expertise. Should any of these chosen vendors are not to your satisfaction, we scratch them out and replace them with someone more suitable in your opinion.
Crew4Events' wedding planners prioritize your opinion over everything else to see that their suggestions and requisites are acknowledged and applied to the last detail. We schedule detailed meetings from time to time where the largest to the smallest details are discussed openly. We try to keep it as brief as possible without sacrificing on the precision of the exchange.
We are here to guide you through every step of planning your wedding, you are certainly in capable, lovable hands!
Services Crammed Under Wedding Management:
Design and Decor
Your wedding decor is something that can make your brain go WOAH or NOOH! It is one of the most important factors in making your big day as memorable as it can be. When it comes to wedding decor our love for vibrant colors with a mixture of traditional and modernization is everything. Every design offered is customized to suit your taste, likes and dislikes.
Be it table decor to theme design and everything in between, we're all about spoiling you with exquisite choices. From making an architectural theme design to coordinating the floral decor, props, lighting, etc. and from setting up to dismantling it in the end. It is entirely our responsibility. So, you can count on us for all of it.
Wedding Favours and Gifting
Your wedding is a celebration of your love and you choose to share it with your beloved wedding guests. Making your guests feel special with personalised wedding favours is something we feel is very charming.
Don't worry. It's not another addition to your checklist. Just leave it to us! We know how exhausting and time consuming it can be to brainstorm through endless streams of ideas. But, we are here to free you from that. We have a vast vendor network who delivers chocolates, handmade products, customized perfumes, hangover kit, goodie bags along with whatever you can imagine, it's there.
Guest Hospitality and Management
We believe Guest Hospitality is the biggest contributor in making your wedding a smooth and delightful experience for everyone who's involved.
Through our past experience, we have built an expertise in RSVP, Itinerary Management, Guest List Compilation, Transportation, Designing Airport Placards, Wedding Logistics and anything else that your guests may require. THEIR NEEDS, WEDDING PLANNER'S DUTY!
Artists and Entertainment
What's an Indian Wedding without the drama and amusement?
Add Bollywood Dance Performers, Salsa Artists, Belly Dancers, Sufi Dervish, Mehndi Artists, Caricature Artists, Fireworks, Wish Lanterns and more, to your wedding festivities and make them more glamorous and fun!
We have extensive artist roster and can help add the GQ (Glamour Quotient) to your wedding with ease. We source the artist and manage all that is needed to deliver an enthralling performance and an entertaining evening that your guests will remember for a lifetime.
Photography and Cinematography
Photos will tell a million stories in years to come after your wedding. And you don't want those stories to be of poor quality. That's why good photography and cinematography during a wedding is extremely important.
Our Photographers and Cinematographers are masters from the industry and as we've been providing manpower for destination weddings from the past 15 years, our extensive database is more than enough to help us cater to your taste and budget.
Be it Pre-wedding photography, candid wedding photography, still photography or themed photo shoots, we do it all.
Wedding Invitations
Wedding Invitations set the tone for your grand celebration and leave you with an overwhelming feeling. The guests are given a glimpse into what your wedding will be like, which gets the excitement going.
If you have a wedding logo, we can work with that and if not, but you are willing to have one, we can offer you a selection of logos to pick from, and rest assured that none of them are from any previous projects. We prepare everything fresh for all our clients. In addition to that, our team also fashions wedding invites, save-the-date letters, creative stationeries and curios, welcome letters, car decals, luggage tags and more.
Wedding Venues, National and International
Crew4Events conducts weddings across India. Our venue choices comprise of 5-star hotels, forts, palaces, yachts, islands and foreign destinations of your choice. With the responsibility of your dream wedding upon us, we bring you the best accommodation.
We have provided manpower for weddings in grand venues like Jag Mandir and Zanana Mahal in Udaipur Palace, Umaid Bhavan in Jodhpur, Taj Palace in Goa, Ludhiana, Jaipur and more.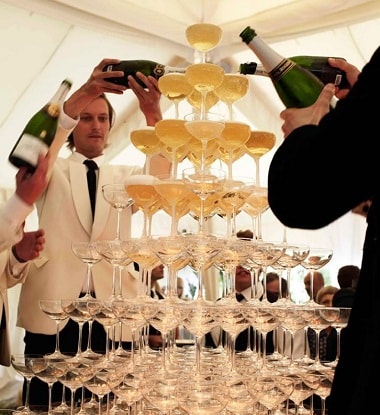 Food and Beverages
Food and drinks are a critical part of Indian weddings and we see to it that no stone is left unturned in putting together a splendid spread for your guests for all the events. From punchy cocktails to decadent desserts, we make sure everything is in place to treat the guests. We start with sampling and tasting which ends with listing the final menu. Our staff that officiates the banquet takes care of the buffet movement, bar management, layout designing, outdoor catering, F&B consulting and bartending.
Security
For the security of our clients and their guests, we have a gamut of options ranging from private security guards, armed guards, police liaisons, trained guards and international security advisers that are appointed as situations demand.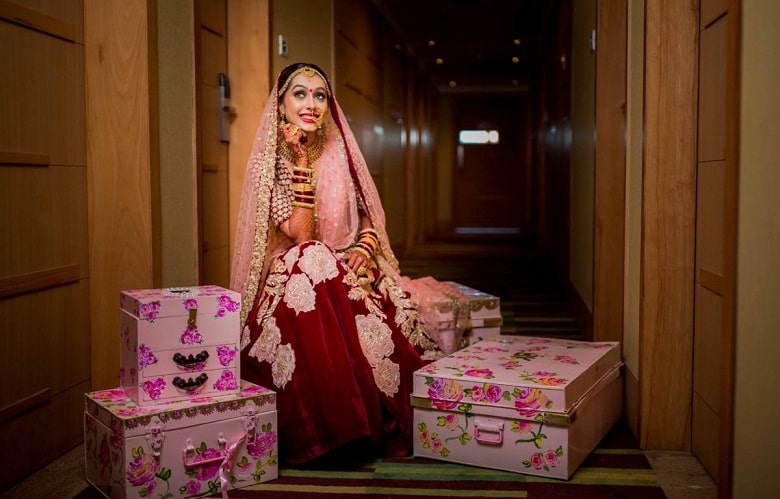 Bridal Trousseau
We are done with booking the venue, deciding on a theme, selecting the caterer and entertainers; now we are left with some shopping. When it comes to the bridal trousseau, you might have many questions that come to your mind. What should you keep in mind before shopping for it? What garments would suit you personally? What are the trends that you need to know about? What are the accessories you need to have? Which items you shouldn't do without for your bridal trousseau?
Fear not! We have got fashion experts who will take over the wardrobe, accessories, and makeup for both the bride and groom.
Having a large wedding that feels intimate might be no easy feat, but Crew4Events weddings proves that it can definitely be done in style!
Weddings should be fun, inviting and uniquely yours. Let us be the crew for you, and we will break a leg giving you the best day of your life!