Nidhi Achantani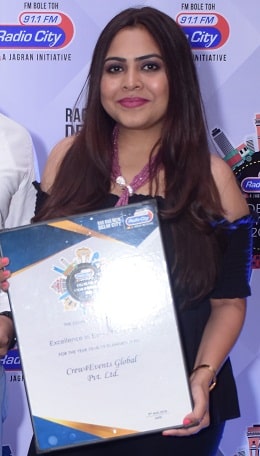 Companies with their event related manpower requirements for their different BTL Activations. Her sharp attention to detail and an innate ability to create well-rounded teams of staff for Delhi's best events was appreciated by the clients she worked with. After working as a freelancer for almost two years and realizing the growing demand of quality manpower for BTL Activations, she set a goal to run her own Event Staffing Company.
Crew4Events was originated in the Year 2005 to fulfill staffing requirements for Events and Advertising Agencies. The office is headquartered in the heart of South Delhi and is successfully into business since its inception.
Soon after the company's origin, she broadened her experience of event staffing services to nearby cities like Jaipur, Udaipur, Agra, Chandigarh, Ludhiana and Amritsar with the help of a wonderful team working permanently at Crew4Events.
Currently, the company is successfully providing event staffing services PAN India and even Overseas.
As the Founder and Director of Crew4Events Global Pvt. Ltd, Nidhi Achantani is responsible for hiring top talent for Crew4Events'vibrant team of event manpower.She is the trusted leader in the event staffing industry;she prides her self on forming long-lasting partnerships with both the clients and the event staff. And of course, she is a brilliant mentor to all the crew members she has worked with. People who had worked with Crew4Events a decade ago, still keep in touch and thank her for the opportunities and grooming she imparted on them. She is a jolly and fun-loving personality, with a touch of business in her heart. She had a dream of becoming a leading woman entrepreneur and now she has, with years of hard work and a team of devoted crew.
Harsh Achantani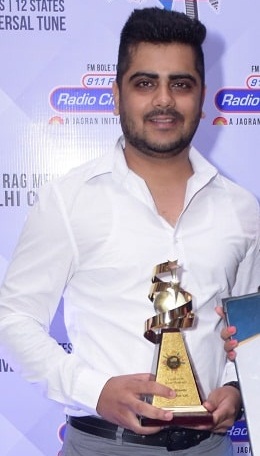 He believes that in today's time marketing efforts are inclined towards experiential marketing. He started with penetrating the market and making the clients aware of the company's services and offerings, mapping decision makers' profiles to facilitate relationship building and business development. Events, activation and integrated marketing campaigns are being used to make brand communication more effective and it has been his objective to strive for professional excellence & growth, by contributing to the organization's vision. Some of his major clients include— Times of India, BMW, Volkswagen, United Breweries, and more.During his 9 years in the Event Management & Entertainment Industry his exposure to A-list events has been on a steady rise.
Soon after he entered the industry, he was successful in pitching the high profile weddings and private events and built a strong client base like, Ambani's Event in Antilia (Reliance Group), 25th Anniversary of Raj Kumar Arora in Delhi (Dilbaag Group), Vaswani Anniversary in Dubai (Stallion Group), Bindiya& Nitesh Wedding in Salzburg- Austria (Sun Group); and corporate projects like Sunburn, ASOT (Mumbai), SHM (Mumbai), etc. with Percept D'Mark.
In year 2014, Harsh took the next step of the ladder into the Luxury Weddings Management with Rohit Bal and executed a good number of weddings and private events. His experience in wedding management and client servicing grew him to be the success he is now. He has successfully handled International Events, Fashion Events, Auto Expo (India), Sports Events, Media Events, Corporate Events, Festivals, BTL Activations, and Destination Weddings across the globe.
His vision of taking this company to pinnacle of its success speaks for itself in the professional excellence and team work spirit he displays.