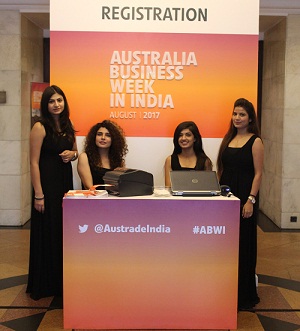 Are you thinking to promote your product in the business sector? Do you need promoters or models to do that? If yes, then you have come to the right place.
A corporate activity is organized by brands that are launching new products or wants to gain visibility in the corporate industry. These types of activities are only planned in metropolitan cities because of the corporate population. Some of the reasons for organizing a corporate event might be: to raise money; to improve relationships; to launch a new product or business; to increase the number of sales or clients; or to increase visibility of what a company has to provide. Manpower at such events are usually experienced boys and girls for corporate activities, who are trained to manage the crowd of customers.
Crew4Events Experience!
We have been providing manpower for corporate activities for more than 15 years and we have developed a database of experts. You can hire Hosts and Hostesses, Anchors, VIP Hospitality, Promoters, Runners and more, to make your event stand out. We have worked with the biggest brands in India, such as M3M, Godrej, Samsung, LG, Time of India and many more. Our boys and girls for corporate events and activities are well experienced and they will brighten up your event for sure.
Crew4Events, Best Manpower Vendor for Corporate Activities

Hire our staff for your next Corporate Activity!