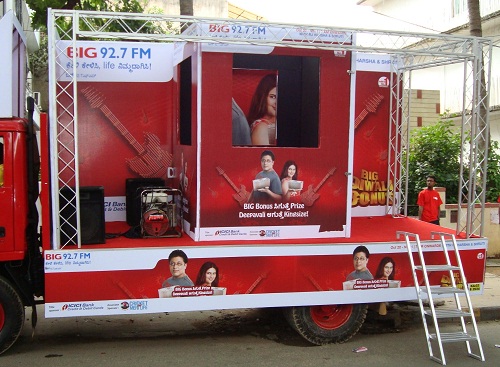 Canter activity means advertising the products or services with moving across places as per the targeted audience. Canter activity advertising is also called Mobile Van Advertising or Road Show Advertising.
Canter activity is one of the mediums of advertising which has the capability of putting advertisement at different places at best times. Canter activity advertising is done by fixing illuminated hoardings, banner or billboard on a van or truck which moves around the city and can be parked at targeted places. This enables the brand to generate hype, interactive product knowledge and a good opportunity to establish the product line / brand proposition.
Crew4Events Experience!
The aforesaid activity when clubbed with emcee engagement programs for the dealers and customers become a great proposition. The emcee continuously announces the names of the reseller in the activated market, where the product is available. It establishes great brand loyalty from the dealers as they are given recognition in the market through continuous announcements. Also, it educates the end customer about the product availability and knowledge. We have worked with various Automobile, Telecom, F&B and IT brands for promoting their different products.
Crew4Events, Delhi's Best Event Manpower Services for Canter Activities

Hire our staff for your next Canter Activity!